TOPICS:
International meeting of COLOSS to provide an update on the network's achievements and future directions
Hybrid meetings for all COLOSS Core Projects and Task Forces
Annual General Assembly Meeting of the COLOSS Association
DATE/TIME:
Tuesday, October 3rd:
Core Project & Task Force 'State-of-the-Art' presentations
Wednesday, October 4th:
Core Project & Task Force 'Update' presentations'
General Assembly Meeting
REGISTRATION:
Registration is closed. ☹️
The registration fee is € 52 for the physical meeting (covering entry, coffee breaks, lunches); € 22 for online participation only.
The fee for the optional Social Dinner is € 30 per person.
PAYMENT:
Please make all payments using PayPal. If you don't have a PayPal account there is also a credit card option.
Pay Now
If you do not have a PayPal account or a credit card, you can also transfer the amount directly to our bank account.
Account: Prevention of Honey Bee Colony Losses (COLOSS)
IBAN: CH07 0079 0016 9280 1864 8
Address: Berner Kantonalbank AG, Bundesplatz 8, 3001 Bern, Switzerland
Due to limited financial support, participants will NOT be reimbursed for travel and accommodation.
WHO CAN REGISTER:
Only COLOSS members can register and participate in the 2023 COLOSS Conference.
COLOSS is open to any scientific professional (e.g. researcher, veterinarian, extension agent) interested in the well-being of bees.
COLOSS membership is free. To request membership, please click HERE; please note that the approval process may take several days, so request membership well in advanced of the conference registration deadline.
LOCATION:
Physical
(immediately following the B-GOOD meeting on October 2)
Rikli Balance Hotel
Cankarjeva cesta 4,
4260 Bled,
Slovenia
Online
Zoom – (links to specific sessions will be distributed to registered participants)
TRAVEL & ACCOMMODATION:
TRAVEL FROM JOŽE PUČNIK AIRPORT, LJUBLJANA TO BLED AND BACK TO THE AIRPORT
Shuttle from Ljubljana airport to Bled (Final destination will be Rikli Balance Hotel)
A special price of € 14 per person one way has been agreed with the ZUP-PREVOZI company please send details (Name, flight number and departure airport) to the local organizer e-mail: leticia.salvioni1@um.si If you wish this special offer also for the return shuttle, send details of your return flight. 
To use the Business Private Shuttle transport, you need to book the transport facility using the form on the ZUP-PREVOZI website: http://datamix.si/obrazci/index_en.php. Prices for Business Shuttle: 1-3 passengers € 48; 4-8 passengers € 65 (Price is per journey not per person!).
You can hire a private taxi from the airport to Bled. The price approx. will be from € 55 to € 65.
Please book the shuttle transport after you have booked your flight (the driver needs your flight number in case your flight is delayed).
ACCOMMODATION IN BLED
The following three hotels have reserved accommodation for the conference participants. All are within very short walking distance of the conference:
RIKLI BALANCE HOTEL**** (25 rooms)
HOTEL SAVICA**** (10 rooms)
GRAND HOTEL TOPLICE*****(40 rooms)
You do not have to choose from these three hotels. There are also many other accommodation options available in Bled, ranging from hostels with bunk beds to 5* hotels. Please book individually. Eg: https://www.bled.si/en/accommodation/list-of-accommodations/
Hotel Reservation Information
RIKLI BALANCE HOTEL****sup
Double room 'single use' €160
Double room 'single use' – Lake View €180
Double room €177 €
Double room – Lake View €213
GRAND HOTEL TOPLICE****
Double room 'single use' €163
Double room 'single use' – Lake View €219
Double room €180
Double room Lake View €243
HOTEL SAVICA****
Double room 'single use' €117
Double room €131
To book at these three hotels please quote: Event Reference Code: 36741
The organizer has made a block booking reservation for the participants of Coloss 2023 with an option until 20th August 2023. After this date, reservations will only be possible upon availability.
Please book your room through direct link to online booking:
https://secure.phobs.net/booking.php?company_id=97852a57570c237e7932e640e970992a&partners_access=C23
If you have trouble with on-line booking, you can contact the Hotel booking department for assistance: E: booking.eventsbled@sava.si T: +386 4 579 16 00
When contacting the booking department please quote the Event Reference Code: 36483
SOCIAL DINNER:
The Social Dinner will be held in the town of Lesce. Transport will be provided.
The payment is € 30 per person (including one drink). If you wish to participate in the social dinner, please tick the social dinner box and give your preferences (meat, fish, vegetarian etc.) on the registration form.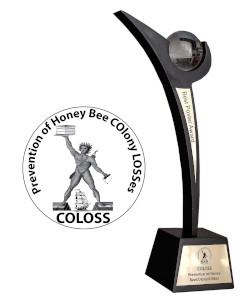 You can submit any abstract on the themes of COLOSS for poster presentation.
A submission should be submitted only once (by the presenting author).
All accepted abstracts MUST be accompanied by a poster.
All participants submitting abstracts for posters are expected to present their posters in person during the evening of the 3rd October 2023 in the Arnold Hall.
Poster dimensions: no larger than A0 (195 x 90 cm.).
The best poster by a student will receive the prestigious "The COLOSS Best Student Poster Prize" and a one year subscription to Bee World. If you are a student as a first author and are willing to participate in the competition, please indicate in the box on the registration form whether you are a student.
The winner of The Best Student Poster Presentation Prize will be announced at the last session of the COLOSS Conference and will be given the COLOSS trophy.
The winner will be also announced in the COLOSS web page and on COLOSS social media.
AGENDA:
2 October 2023

Time

Session 1 – COLOSS Executive Committee Meeting 1




(for Executive Committee members only)

19:00-20:30
Meeting of the COLOSS Executive Committee (Rosa meeting room)

3 October 2023

Time

Session 2 – COLOSS General Assembly Meeting 1

08.30-09.00
Sign-in & coffee
09.00-09.15
Welcome by COLOSS President and Local Organizing Committee Chair (ARNOLD HALL)
09.15-10:30
General Assembly (ARNOLD HALL)
10:30-11:00
Break, with drinks & snacks

Time

Session 3 – COLOSS Updates

11:00-12:30
COLOSS Core Project & Task Force updates annual achievements
(3 CPs & 9 TFs; 6 mins. ea.) (ARNOLD HALL)
12:30-14:00
Lunch (covered) & poster set-up

Time

Session 4 – Concurrent Discussion Groups 1

14:00-16:00
1. Varroa control (Arnold ), 2. Small Hive Beetle (Sonce), 3. Vespa velutina (Zrak)
16:00-16:30
Break

Time

Session 5 – Concurrent Discussion Groups 2

16:30-18:30
1. World Bee Health (Zrak), 2. B-RAP (Sonce), 3. Bee Breeding (Straža 3)

Time

Session 6 – Posters & Social Dinner

18:30-19:30
Poster session (Arnold Hall – Right hand part)
20:00-
Social dinner

4 October 2023

Time

Session 7 – Concurrent Discussion Groups 3

08:30-10:30
1. Monitoring (Sonce), 2. APITOX ( Zrak), 3. Survivors (Straža 3)
10:30-10:45
Break, with drinks & snacks

Time

Session 8 – Concurrent Discussion Groups 4

10:45-12:45
1. Viruses (Sonce), 2. Nutrition (Straža 5), 3. BEEBOOK (Straža 3)
12:45-14:30
Lunch

Time

Session 9 – Concurrent Discussion Groups 5 (Optional)

14:30-16:30
1. CP/TF (Straža 5), 2. CP/TF (Arnold), 3. CP/TF (Straža 3)
16:30-16:45
Short break

Time

Session 10 – COLOSS General Assembly Meeting 2

16:45-17:45
Updates from Core Projects & Task Force discussions (ARNOLD HALL)
17:45-18:30
Final General Assembly discussions, the ceremony of The Best Student Poster Prize, plans & farewell (ARNOLD HALL)

Time

Session 11 – Executive Committee Meeting 2




(for Executive Committee members only)

20:00-21:00
Debrief meeting of the COLOSS Executive Committee (Rosa)
DEADLINES:
Registration and abstract submission deadline: Monday, September 4

EXTENDED

Hotel reservation deadline: Sunday, August 20